For almost forty years, the MS Readathon has been a way to both ignite a love of reading in children, while helping people with Multiple Sclerosis.
Since its foundation in 1979, the MS Readathon has raised more than $40 million for people living with Multiple Sclerosis. However, the 2018 MS Readathon looks a little different than the 1979 version!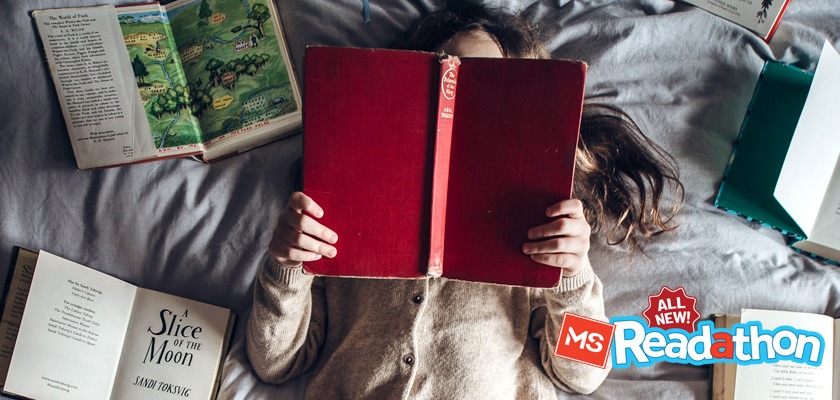 Running from the 1st – 31st August 2018, the MS Readathon inspires kids to read as much as they can, while being sponsored by family and friends to raise money for MS. The rules for kids are straightforward; read whatever kind of books you like, as much you can!
In today's digital world, it can be tough to inspire reading. The all new MS Readathon website is designed to make the challenge more interactive online. Kids can write book reviews and rate their favourite reads.
It's a great tool for teachers, with many schools working together to reach for team goals.
What is Multiple Sclerosis (MS)?
According to MS Australia, Multiple Sclerosis (MS) is a condition of the central nervous system, interfering with nerve impulses within the brain, spinal cord and optic nerves. It affects over 25,000 people in Australia. Roughly three times as many women have MS as men, although the reason for this is not currently understood.
MS can cause various symptoms, which can be a combination of the following:
Motor control – muscular spasms and problems with weakness, coordination, balance and functioning of the arms and legs.
Fatigue
Other Neurological Symptoms such as vertigo, pins and needs, neuralgia and vision problems.
Continence
Neuropsychological Symptoms – depression, cognitive difficulties and memory loss.
There is currently no cure for MS. Treatment usually focuses on speeding recovery from attacks, slowing the progression of the disease and managing MS symptoms with a combination of medication, diet and physiotherapy.
The National Disability Insurance Scheme (NDIS) provides funding for Supports for people living with MS through Registered Disability Service Providers such as Zest Care. NDIS Funded Supports can include assistance with self-care activities or Coordination of Supports.
Raising money for research for this serious condition is critical, which is why it's so important to support fundraising drives like the MS Readathon.
Funds raised by MS also go toward sending kids with parents living with MS to a "Family Camp," where they can learn about MS and have fun with their family.
Donate today! Let's help make MS history.