Jung eun Park's passion in life is working with children. It's a joy she brings to her work with Zest Care everyday, which has been recognised by her being a finalist in this year's Blackmores Mercie Whellan Women + Wellbeing Award!
These awards celebrate acts of courage and determination by women working in Northern Sydney who have made an outstanding contribution to the local community by improving the health and wellbeing of others. They've often overcome their own challenges to do so.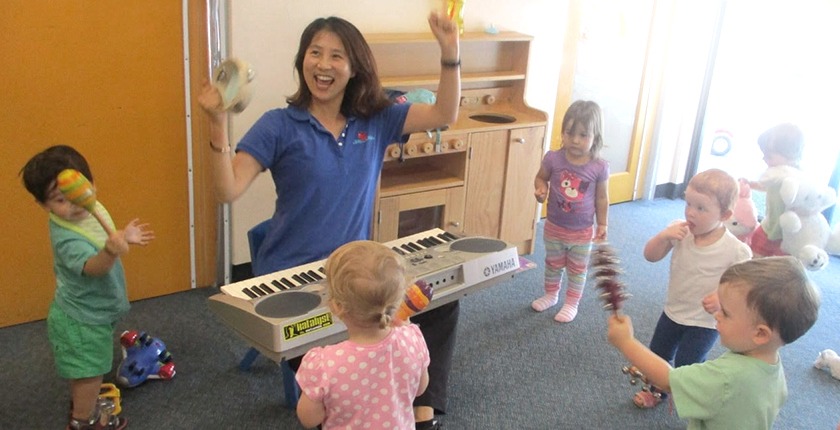 Jung was a preschool teacher in her native South Korea before moving to Sydney in 2007. She has a degree in Early Childhood Education from Pusan National University and lots of experience in the sector.
We were fortunate that Jung started working with Zest Care in 2012. Jung has continued with us and brings positive values and outcomes to her role as an Educarer.
Jung has been working with single mother Gretchen Broer and her family for nearly 18 months. Gretchen has four children with Autism and needs a carer to come in every day for support. Jung assists with care and engages with the children. This might be in the form of musical time, reading…or fun cooking & baking classes!
Gretchen secretly nominated Jung for the Blackmores award and was thrilled when Jung was chosen as a finalist from 165 nominations.

"I felt honoured that I was one of the finalists and could participate with the amazing women who were there on the fantastic awards night," says Jung.

"I am also very lucky to have such a beautiful family to work with every day. Gretchen is an amazing mother who keeps trying to make a good environment for the children. I help with books, music and bringing new ideas of activities…which help them to be excited to see me every day!"
Part of the work is adapting activities or techniques that aren't proving successful.
"If the children are unsettled, it is a good chance for me to learn and build on how to make them calm down in a positive way. I try not to say "NO" which makes them feel more frustrated. I use other words and include the reason why. I give them choice and "thinking time" before they decide on things. The most important thing is working together."
There are lots of small wins every day for Jung that make it all worthwhile:
"It was difficult toilet training Elliot, who is 4, last year. Now he is able to go to the toilet without my help! The reward for me is also hearing the children laugh, smile and be happy!"
We're so delighted for Jung that she was chosen as a finalist for the Blackmores Mercie Whellan Women + Wellbeing Award. It was so well-deserved…as she continues to make us proud in her work.
That's what makes Jung this month's Good News Story!