There are times in life when families need some extra support, which is where Zest Care comes in.

Sally Ryan doesn't know how she would have got through a difficult period without Zest Care. The busy mum has a three year old daughter with a disability, Maddie, as well as a newborn and a five year old.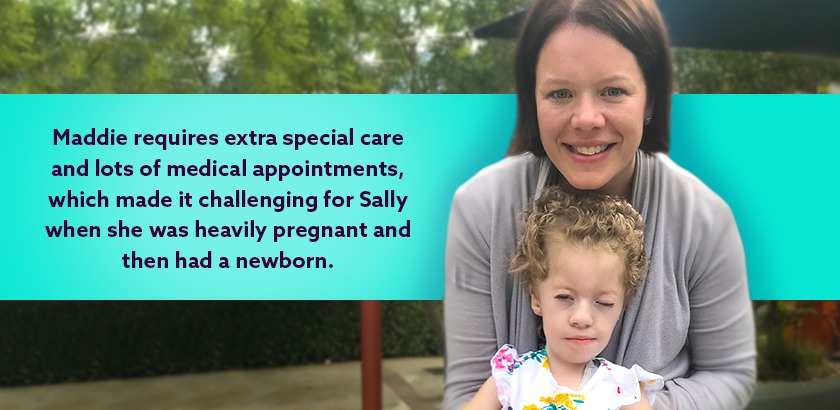 Maddie suffers from Arthrogryposis; congenital joint contracture which severely limits her range of movement.

The number of joints affected vary, although a 'classic' case of Arthrogryposis affects the hands, wrists, elbows, shoulders, hips, feet and knees. In the most severe cases, nearly every body joint may be affected, including the jaw and spine. The condition occurs in approximately 1 in 17,000 births in Australia. (The Australian Arthrogryposis Group).
Maddie's complications from Arthrogryposis include having limited movement and being nil by mouth. It means she needs extra special care and often attends medical appointments, all of which can be difficult to juggle when there are other children to consider.
Given her situation, Sally was eligible to receive funded In Home Child Care (IHCC) support through the Australian Government. Having worked with families across NSW for 18 years, Zest Care were able to assist Sally when she was heavily pregnant, and then nursing a newborn. She also had Maddie and her eldest child at home.
"Without Zest Care, I literally don't know how I would've coped," says Sally. A permanent support worker was able to come into the Ryan home from Monday to Friday, between 8 and 4pm.

Zest Care carefully match their 'Educarers' with children and the families they work with. In Sally's case, part of the reason this arrangement worked so well is that the regular Educarer we sent her was also a mother, who understood the pressures she was under.
Sally would wholeheartedly recommend Zest Care to families in need of support.
"They were very accommodating, professional and positive throughout the whole process."
It's hearing feedback like this that makes Zest Care's work worthwhile. Offering quality, personalised In Home Child Care support means that we can make difficult situations easier for families in need.