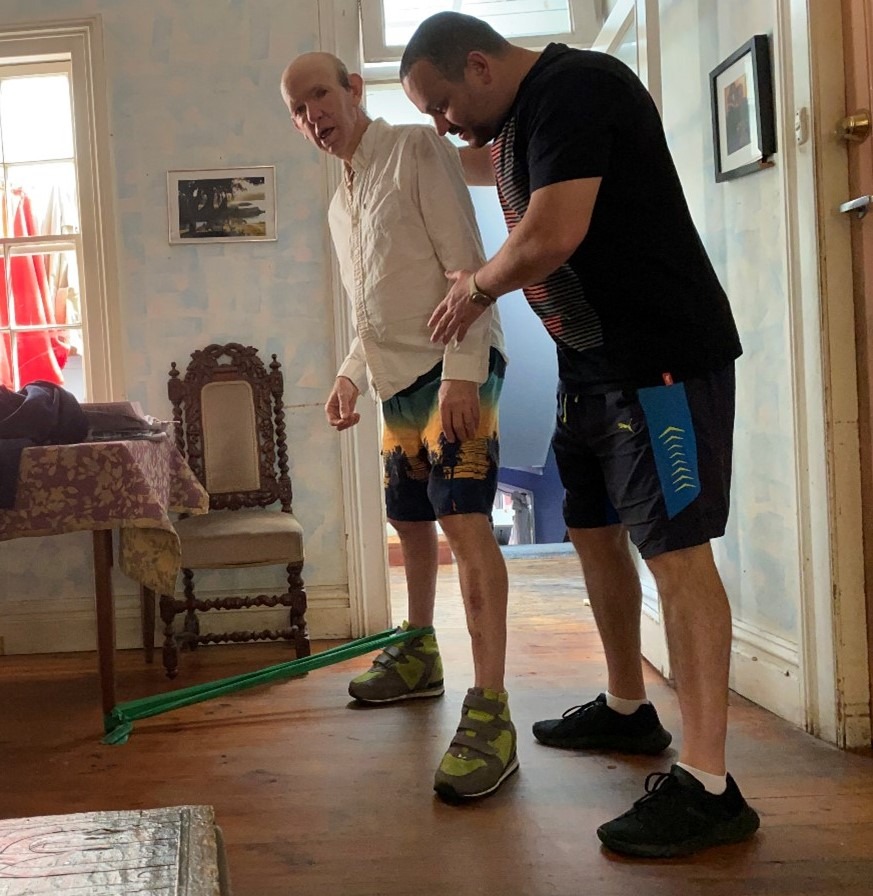 Did you know there are more than 2.65 million informal carers in Australia? According to Carers Australia, these are "people who provide unpaid care and support to family members and friends who have a disability, mental illness, chronic condition, terminal illness, an alcohol or other drug issue or who are frail aged."
Individuals in our community living with disabilities receive support from service providers like Zest. Our Sydney-based client Mark, who has developed a strong relationship with support worker Myles, is one example.
The role of our support workers
Myles, 37, has been working with 57-year-old Mark for about 18 months, supporting him with social and community participation. "I love spending time in nature," explains Mark. "We walk down by the water and the trees. Another thing we do which I love is going to church." Since working with Myles, Mark has gotten to know his local priest. The two also visit local cafes and clean up rubbish around the mangroves at Pyrmont.
Mark, who was diagnosed with a mental illness in his twenties, says he also enjoys "finding out about what's happening on the planet." However, Mark previously didn't know how to use the internet or search engines, Myles explains. "I had to teach him how to explore different information. Now Mark can do that so easily."
Myles also supports Mark with everyday activities, such as taking out the garbage, ensuring his iPod is charged and working (music is a vital part of managing Mark's mental health) and helping him with his physiotherapy exercises.
A two-way relationship
Myles explains he and Mark "connected straight away" over their shared faith and love of nature. He describes Mark as totally non-judgemental. "Considering what he's gone through, he's such a happy, optimistic person. His positivity rubs off on you."
He adds that seeing positive changes in clients is the most rewarding aspect of support work. "You really only notice when you look back," he says. "With Mark, what we do now is so different from the beginning – he's learned new skills and made so much progress."
Mark says he feels "really lucky" to have met Myles. "Over time we've developed a close friendship."
National Carers Week 2020
National Carers Week was from October 11-17. Every year, it recognises the integral role Australia's informal carers play in supporting family members and friends.
Figures about informal carers from the Australian Bureau of Statistics show that:
In 2018, 10.8% of all Australians were carers
Females were more likely to be carers than males (12.3% of all females versus 9.3% of all males)
There were 235,300 young carers (under the age of 25)
Over one-third (37.4%) of primary carers had disability, twice the rate of non-carers (15.3%).
Zest acknowledges the wonderful job our support workers do in assisting people with disabilities to participate at home, work and in their communities.
For anyone considering a career in support work, Myles has this advice: "It's challenging at the start because you don't fully know what you're getting into, but if you stick with it and stay committed you get to see so many rewards. I have a passion for working with Zest and love what I do."
About Zest
Zest Personalised Care is a registered provider of NDIS disability support services with two decades of experience in the care industry. Please get in touch​ if you'd like any more information about how we work with individuals to achieve their goals.