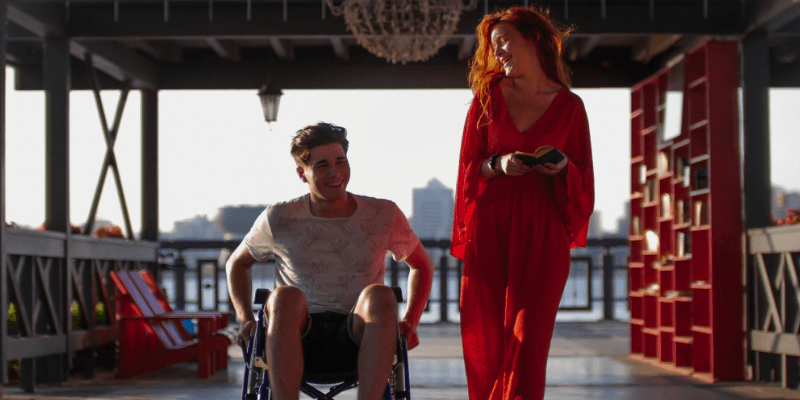 If you or someone in your family is living with a disability, holidays aren't as simple as booking a flight and off you go. Here are some things for you consider when booking accessible travel.
Our top tips for accessible travel
As we look at the year ahead, it's always nice to have something to look forward to, like a well-earned holiday. Australia has so many wonderful places to see and things to do that there's no doubt you'll find somewhere you'll want to explore more of. But if you or someone in your family has a disability, travelling isn't as simple as booking a ticket and off you go. If you're travelling with a disability, here are some of the things you might need to consider before your long-awaited break.
Flying to your destination
When booking a flight, it's always worth chatting with the airline first. You might need to find out how wheelchair accessible the airport is. Ask whether a wheelchair can be taken straight to the plane or whether you'll need to borrow an airport chair.
If you have a child that has special needs like autism, you might need to chat about minimising anxiety. The airline might be able to help with faster check-in or have other suggestions for making your journey as smooth as possible.
If you have a medical condition, you also might need to find out about the best way to store medicines on the flights. Disabled air travel doesn't need to be hard but it's best to prepare well in advance so your flight goes as smoothly as possible.
Driving to your destination
Like flying, you'll need to do a bit of extra preparation before you hit the road. One website that might be helpful (and really, everyone should have this bookmarked!) is the national toilet map.This site provides information on over 19,000 public toilets in Australia, including disability access.
Also, consider getting a Master Locksmiths Access Key (MLAK key). It allows people with disabilities 24/7 access to a network of accessible public facilities.
If you have a child that doesn't cope with change very well, a social story could be a great way to prepare for your trip. Include typical aspects of a road trip like having snacks in the car, car games, looking at the scenery and even rest stops.
Choosing accessible accommodation
When choosing your accommodation, make sure you contact the provider directly about your needs. Some hotel rooms vary wildly in size and accessibility so it's always worth checking. Ask questions like whether the room is on the ground floor or has a lift. Find out whether there is a roll in shower or any other accessible options like a shower chair.
There are also lots of accessible options out there like Seafarers Diamond Beach. This wheelchair friendly accommodation is right near the beach and even allows support dogs.
Another option is the Apex Foundation Chalet. This mountain lodge gives disabled children the opportunity to experience a snow holiday.
Consider a cruise
Cruises are a great, accessible holiday option for exploring Australia and abroad. Many ships have many accessible cabins that have ample space for a wheelchair. They also have additions like a drop-down shower seat, handheld showerhead and a toilet with grab rails.
Some have specialised kits for hearing impaired people like a vibrating bed shaker and door knock transmitter. There is often braille throughout the ship for vision impaired people.
Make sure you speak to a travel agent about what shore excursions are accessible so you and your family can take part in the ones you want to.
Book into a disabled travel tour
If you don't want to organise a trip yourself, a tour could be the option for you. Depending on your needs, there are some wonderful providers that can even provide 1:1 support if required. Leisure Options is one accessible tour option, offering exciting trips around Australia and even overseas.
If you need a bit more information on travelling with a disability, there are many resources available online including from:
– Smart Traveller
– Choice
– CASA
– Independence Australia
– Lonely Planet
Bon Voyage!
Zest Personalised Care is a registered NDIS Provider. Please get in touch if you'd like any more information about how we work with individuals to achieve their goals.