Hayley Wilkinson is a Recruitment & Support Consultant with us here at Zest Care. She recently received an award for her contribution to the "Street Beat" program within Weave Community Services. The award was given by Counterpoint Community Services in celebration of National Volunteer Week. Hayley also received an award recently from Weave themselves, because of her awesome ideas for fundraising.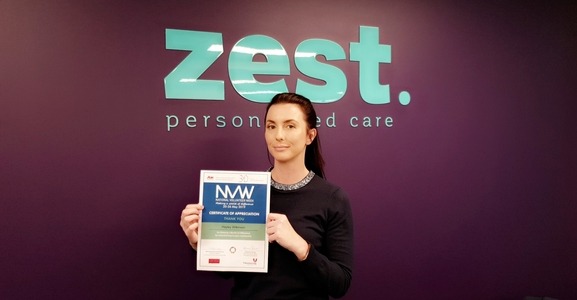 We love that our staff genuinely care so much about others, so we caught up with Hayley to learn more for our latest Good News Story!
What kind of volunteer work do you do?
I volunteer with Weave Community services based in Waterloo. They run many different programs. I volunteer within a program called 'Street Beat', a minibus that runs on weekends from 9 pm to 2 am. We pick up children and youth up from the youth centres and the streets where they hang out, within the inner west, and we make sure they get home safely. Weave also run a tutoring/mentoring program which I'm looking at starting this year.
Finally, we are running City to Surf in August for Weave (please contact Zest if anyone would like to sponsor us)!
Why does this cause matter to you?
It's important that children and youth feel safe, loved and cared for but it's not always the case. I feel like these kinds of services are vital because they not only support and empower them, but they bring people together.
How long have you been volunteering for?
Since January. It was my New Year's resolution that got me kick-started.
What do you think the best thing is about volunteering?
Getting to know the kids and their individual personalities. Knowing that they and their parents can rely on you and the service to get them home safe. Also getting to know the staff and seeing the relationships they have already built with the children and their passion towards helping and supporting the kids. They are such great role models.
You feel a great sense of pride to be a part of an organisation that genuinely care about the welfare of the local community and makes such a huge difference. You can see how much the community value Weave and the support and programs they offer too.
Why do you think voluntary work is so important?
Especially within the community services industry, funding is extremely tight which means the people who need these services miss out if they can't keep the programs running due to lack of funds. With the support of volunteers, so many more vulnerable people are being reached out to, being supported, being heard, feeling valued and kept safe.
Do you have any advice for people who want to get into volunteer work?
If you have been thinking about volunteering but haven't yet due to one reason or another, just give it a go. You will learn so much and meet lots of new people on the way. Just be yourself and enjoy it.
If you would like to learn more about our wonderful team, you can do so here. Our staff display the same levels of care as Hayley, whether they're in the office or out in the field with our clients!
If you would like to learn more about our services or engage with them, please contact us – we're always here to help.