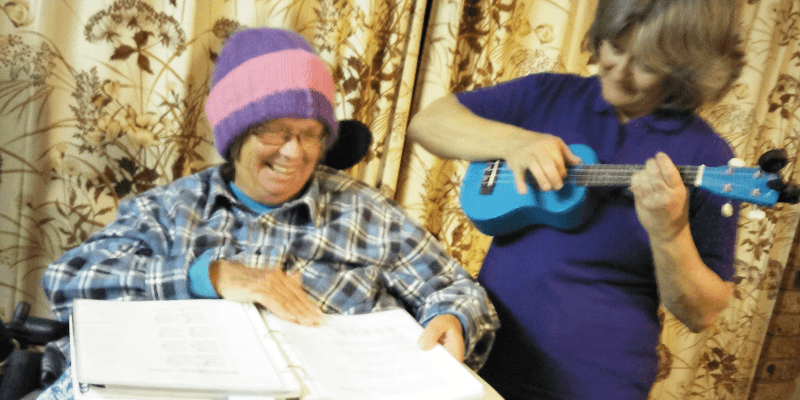 At Zest, we like to think of our clients as more than just clients. We like to think of them as the closest you can get to family without sharing DNA or signing a marriage licence. Which is exactly why when Jen Tyson asked us to celebrate Christmas in July with her just recently, we were more than happy to oblige.
Jen has been with Zest Support Worker Kim for some time now. From the very beginning, they hit it off. Naturally, the rapport has only developed more and more since, with the bond between the two only growing stronger as time passes.
"Kim's company is uplifting – we have a laugh a minute and it is energising!" says Jen.
"Zest's support staff have some really good workers. They do so much and encourage me to do what I can manage."
In any given day, Kim helps Jen get out of bed, prepare meals, garden, care for Jen's chooks and fish, go shopping, get the usual housework done ("I get a lot of compliments about how spotless my home is!"); as well as keeping her company for a bit of nightly TV, before getting ready for some much needed shut eye.
As the Saturday after July 25th came around (Kim had been relieving another Support Worker on leave during the actual 25th), the idea for the dynamic duo's Christmas in July became a steadfast reality. The game plan was simple: Kim would bring a ukulele to play and they would have a Christmas Carols sing-along.
"We hit a really high note and held it for almost thirty seconds, staring at each other in disbelief at how in key and good we sounded and trying not to lose it and laugh at the same time… we encouraged the other support worker to join in with us, and we found out [they have] a great voice!"
"Right then, one of my adult sons arrived home to stay with me overnight, and I didn't even hear him come in. At the end of the song, I asked him, 'Could you hear us outside the door?' and he laughed 'Yes!'"
At the end of the day, family isn't just who you share DNA with or who you're married to. Family is the people who are there when you really need them, and the people that you share the little moments with when it matters the most. And dare we say it, family is the Zest team.
"Zest are very thorough. The staff work hard whilst enjoying what they do and they make me laugh. I've already recommended Zest to a friend!"