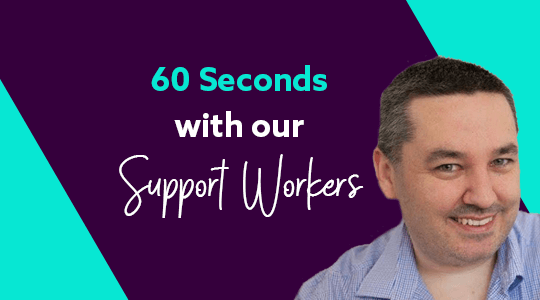 Jamie is a support worker at Zest and is passionate about his job and daily life at working for Zest. Delve into why Jamie values his job so much and learn more about his experience as a support worker.
Full name? Jamie McDonald
What's your job title? Support Worker
How long have you worked at Zest? 6 Months
What gets you out of bed in the morning? Either my alarm, cat, son or the thought of a huge coffee!
What is your biggest achievement to date – personal or professional? I was once a regional finalist in a Monopoly tournament at Ballarat Toyworld…also I was on tv once.
What does a typical day look like for you?
I wake to the unwelcome screech of an iPhone alarm and stumble towards my kitchen in search of caffeine. It's normally at this point that my cat thinks that my movement indicates the possibility of food! After dealing with any pressing issues via email, phone and/or smoke signals I will generally prepare myself for a support shift with one of my amazing clients. We might be shopping, going to the pub, taking a walk outside or just watching a movie but one of the greatest things about this role is the variety. When the clock hits 5:01pm it's time for a glass of port on my balcony at home (one of my favourite spots in the house). I enjoy relaxing by binge watching a tv series, playing PS4 or playing a few hands of online poker.
What three words would you use to describe your role? Rewarding, exciting and fun.
What do you like most about your job? The team at Zest are amazing people and it's a privilege to be a part of it.
What is your motto or personal mantra? Stuff is just stuff – I value experiences.
What's your favourite line from a film? I'll be back.
What is your favourite thing about working at Zest? It's great having the opportunity to engage with amazing clients that inspire me every day and working within a team that treats each other so well; and it's nice to be paid to do this!