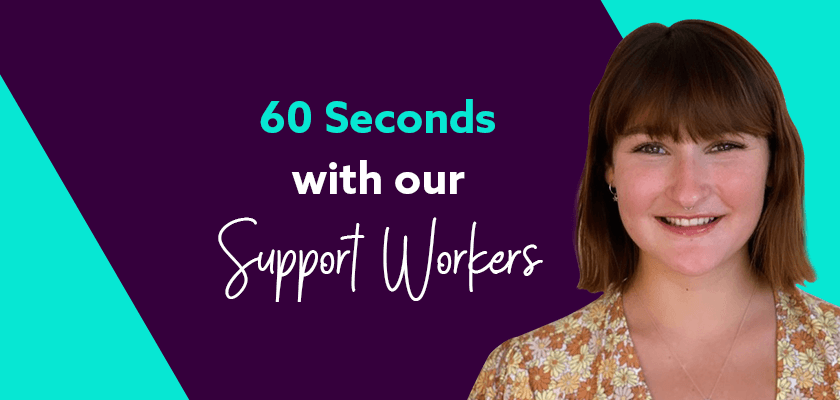 Meet Hannah, one of Zest's dedicated support workers! Hannah explains how rewarding and diverse her job is. Find out more about Hannah's daily life working for Zest and whys she values what she does, so much.
Full name? Hannah Tang
What's your job title? I'm a Support Worker
How long have you worked at Zest? I've been working with Zest for nearly 6 months now!
What gets you out of bed in the morning?
The fact that I have no idea what my day at work will bring, and that's exciting!
What is your biggest achievement to date – personal or professional?
Travelling solo through India, Nepal and Europe during this year and last definitely comes to mind. It was challenging at times but I got to learn so much about other cultures and meet so many amazing people from all over the world!
What does a typical day look like for you?
No two days are ever exactly the same! But on a typical day with a client I might take them to some appointments, to the shops or to visit family, then we might catch up for a coffee or anything else they might need help with. After work I usually go to yoga or salsa dancing and cook a nice meal.
What three words would you use to describe your role?
Rewarding, Active, Unpredictable
What do you like most about your job?
I love that I get to be out and about with my clients, building relationships with lots of diverse people, and helping them achieve personal goals. It's definitely a rewarding career, and no two days are ever the same.
What is your motto or personal mantra?
"You are braver than you believe, stronger than you seem and smarter than you think." – A.A. Milne
What's your favourite blog or social media account?
I love travel blogs like Lonely Planet and Culture Trip.
Given a chance, who would you like to be for a day?
I would be a bird so that I could fly
What's your favourite line from a film?
"Carpe diem. Seize the day, boys. Make your lives extraordinary." – From The Dead Poet's Society
What is your favourite thing about working at Zest?
Zest sees all their clients as individuals and really works to help meet their needs and achieve their personal goals.