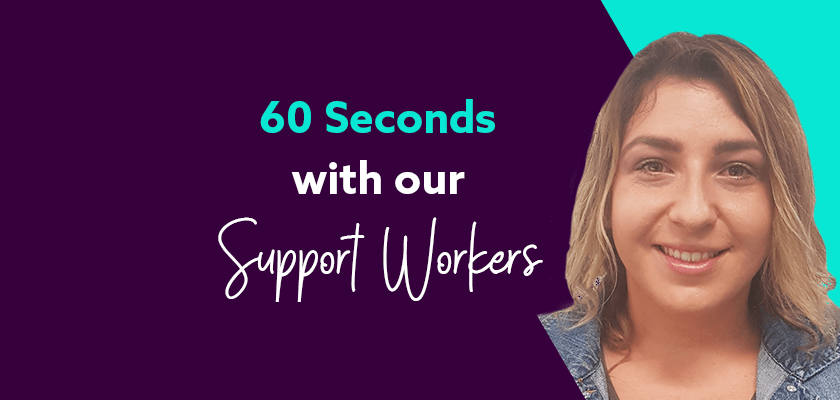 Meet Elizabeth, another one of our dedicated Support Workers passionate about making a difference here at Zest. Elizabeth explains what a regular day for a Zest Support Worker looks like, the incredible flexibility Zest affords to balance her life, as well as what she loves most about her work.
What's your job title?
Support Worker with the Vulnerable Children's Program.
How long have you worked at Zest?
Almost 12 months.
What gets you out of bed in the morning?
The thought of making a difference in children's lives.
What is your biggest achievement to date – personal or professional?
A personal achievement that I have been able to achieve is a flexible working life with Zest Care. I have struggled in the past with working full-time, gym, study, and having a social/ home life. I am currently able to attend to my studies and work towards completing my qualifications in community services and be able to work and have a healthy lifestyle.
What does a typical day look like for you?
I start my day with a yummy breakfast and then head out to my shifts with the Vulnerable Children's Program (VCP). I feel as though my role can be diverse as I have different clients with different goals to work towards, such as helping children with behavioural challenges, mothers with newborns, and guiding parents with strategies and parental skills.
What three words would you use to describe your role?
Rewarding, fun, and challenging.
What do you like most about your job?
I love the fact that my role allows me to make a difference in children and even parents' lives. I am from an early childcare background and have always had a passion for children that need support.
What is your motto or personal mantra?
"To never stop learning".
What's your favourite blog or social media account?
"Jay Shetty" – Instagram account for positive quotes.
Given a chance, who would you like to be for a day?
Adele Adkins, singer and songwriter
What's your favourite line from a film?
"When we die, our bodies become the grass, and the antelope eat the grass. And so, we are all connected in the great Circle of Life." The Lion King.
What is your favourite thing about working at Zest?
My favourite thing about working at Zest would be the support I have with the VCP Team Leaders and the flexibility of my working hours.