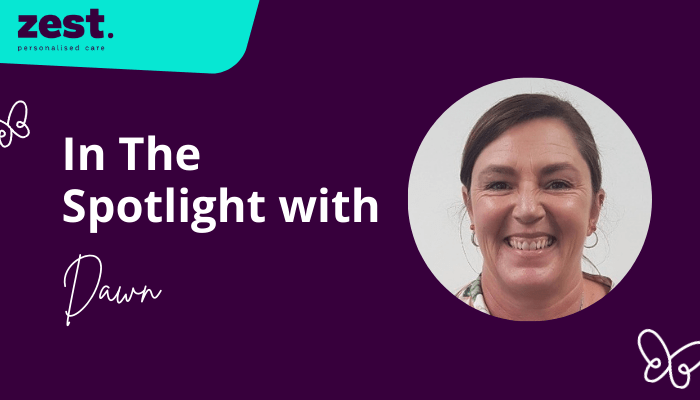 Working as a Family Support Worker, Dawn takes us through what a typical day looks like. She also gives us a run down on why she loves being a support working as well as her favourite thing about working at Zest!
What is your job title?

Family Support Worker.
How long have you worked at Zest?

Almost 2 years in April.
What gets you out of bed in the morning?

Things to do, people to see.
What is your biggest achievement to date – personal or professional?

Going back to work after 16 years as a SAHM and completing a Certificate IV in Community Service.
What does a typical day look like for you?

Cup of tea and a shower, feed the animals, get my boys ready for school, then off to work if I have a morning shift, if there's time I might go home or on to the next shift. Home to cook dinner, help kids with homework and general housework.
What three words would you use to describe your role?

Empathetic, guidance, and responsibility.
What do you like most about your job?

Meeting lots of different people and having the opportunity to make a positive impact.
What is your motto or personal mantra?

Let your light shine.
What is your favourite blog or social media account? Why?

There is one I follow called Rock Star Mums drink champagne, I like her because she's very down to earth, and hilarious.
Given a chance, who would you like to be for a day?

Michelle Obama, she's such an intelligent and compassionate person.
What is your favourite thing about working at Zest?

Every day is different and there are always new challenges, working for Zest has really improved my self-confidence and shown me that I have more ability than I'd given myself credit for. The staff are wonderful and have been so supportive, I feel lucky every day that this is my job.