Our 'In The Spotlight' piece this month focuses on Alana Bicanic, who is now working across a number of areas of the Zest Care business. Alana is new to the company, but she helps our clients directly and therefore builds a great relationship with them. We're excited to share more about her!
What is your job role?
I am a Support Coordinator and Customer Engagement Coordinator.
What does a typical work day look like for you?
Every day is different. There are home visits, which I love, as I get to be face-to-face with my clients and hear their stories to really understand their support needs. Then there are dedicated office days, which I also love, as I am a planning/strategy nerd.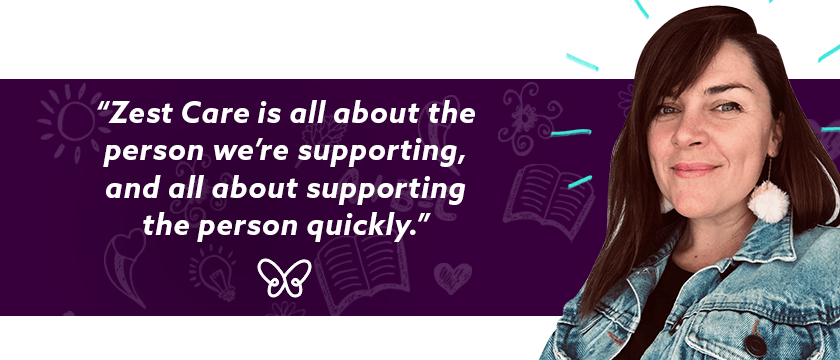 What do you love about your job?
I love getting to witness people overcome adversity. I see people face massive challenges and stand strong in the face of that. It is so cool to be involved in even the smallest way, helping people create positive change in their lives.
How long have you worked with Zest Care?
I'm a newbie, just under a month.
Thinking about your role, how do Zest Care go the extra mile?
I think Zest Care is all about the person we're supporting, and all about supporting the person quickly. I respect the fire-in-the-belly attitude my team has to get the job done, and to get it done right.
You work closely with our clients, how do you ensure you always have time for each of them?
I like to break down our clients' plans and manage my time over a yearly projection, then amend that on a weekly basis, and then make a daily priorities list. Obviously, life doesn't respect our best-laid plans, so when things happen, I'm flexible and available. But I like to have a plan to make sure my time is spent fairly.
How do you self care to avoid taking your work home with you?
I'm all about reflection, introspection, and understanding yourself. When you work on yourself, look after yourself and make your own needs a priority, I think you're better for it professionally. I'm pretty good at staying on track during the day, so that when I leave the office, I'm confident I've done all that I could. At the end of the day, work is work, and home is home.
When you have 30 minutes free, how do you pass the time?
I'm a newly minted Mum, so if I'm not squeezing my son's cheeks, I'm sleeping, or dancing in the kitchen.
If you could learn to do anything, what would it be?
Hard one! I'd like to fly a plane one day.
Your message for the team?
Thank you for welcoming me! I'm excited for what this journey with Zest will bring.
Anything else you would like to share?
No, thank you for inviting me to share my thoughts 🙂