Bethanie Wardell just loves people. The Newcastle native worked in hospitality management for years before deciding to pursue her passion and study Community Services at TAFE.
From there Bethanie has worked hard to establish a great career in providing supports to people in need.
We were delighted when Bethanie accepted our offer to become Zest Personalised Care's first NDIS Support Worker in the Hunter region. Our new Newcastle office opened in October 2018, and we're slowly gathering the right team.
Supporting NDIS clients requires a very special combination of skills, as well as patience and an ability to maintain the equilibrium in any situation.
Finding the right match for our clients is one of our chief priorities. After performing thorough checks, we knew Bethanie's training and diverse skills would make her an indispensable part of the team.
One of Bethanie's clients has extensive challenges. She has Borderline Personality Disorder, anxiety and depression, plus an injury that means she requires the use of a wheelchair. Due to this particularly challenging mix, the client actually spent a long time in hospital. She now has the opportunity to live independently, but is in need of 24 hour support.
Bethanie's role is to help around the home, plus assist with medication and transport. However, one of the main things she does is provide mental health support, which bethanie says is a balance of "consistency and space." Bethanie is a crucial support and adept at maintaining a calm environment.
Another client has an intellectual disability, anxiety and depression. He also has a son with whom he requires supervised visitation.
While Bethanie's job can be challenging, she says it can also be incredibly rewarding.
"It's so important that everyone has an opportunity to be heard," said Bethanie. "That they're not just a number. So many people in difficult positions can feel stuck and isolated. They need to feel appreciated and that they are able to take steps forward out of a situation."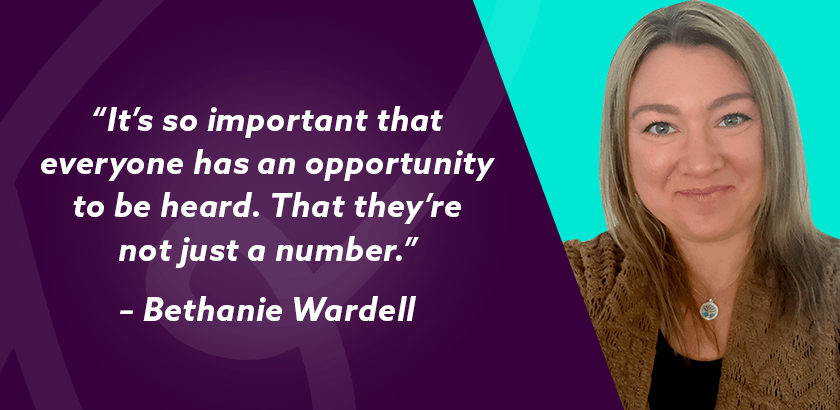 We're inspired by Bethanie's commitment and attitude to her work. It's a wonderful "Good News Story" with which to finish the year!